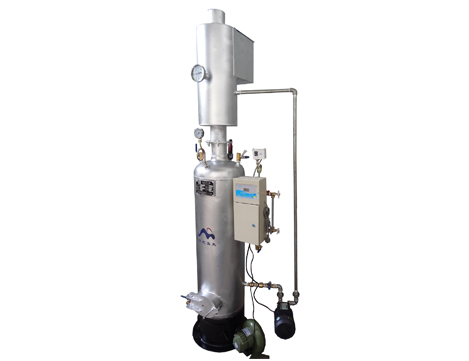 I. Introduction
1, Model name: LSG0.04-0.4-AII coal-fired steam boiler
2, the main technical parameters.
1

额定蒸汽压力

0.4

Mpa

7

设计热效率

70

%

2

额定蒸发量

0.04

Kg/h

8

设计燃料

Ⅱ类烟煤

3

额定蒸汽温度

151

℃

9

额定容水量

28

kg

4

炉排有效面积

0.07

㎡

10

燃料消耗量

4-5

Kg/h

5

受热面积

1.34

㎡

11

本体尺寸mm

φ350×1500(+800)

6

总重量

150

kg
Second, the structural characteristics:
1, management fees low: no handle boiler use permits, operators do not need to do work license.
2, energy efficient: This series of coal-fired (diesel) steam boiler structure, small size, high-quality carbon steel. Mainly by the head, the boiler shell, furnace, furnace top, towering pipes, chimneys, pipes and other cross-member, is coke, anthracite and other non-flammable fuel designed, its fixed grate combustion furnace top layout radiation arch, reducing the furnace cooling, improve the combustion intensity. High temperature convection smoke pipe arrangements, increasing the convection heating surface, enhanced convection heat, the thermal efficiency of the boiler furnace have been greatly improved over conventional vertical hand burn. Also at the top of the boiler with a deputy furnace unit, automatically adjust the water level, the water temperature of the boiler up to 75 ℃ -95 ℃, the fuel combustion to achieve full effect of absorption. Energy conversion efficiency, thermal efficiency of over 89%. 9-12 minutes to generate steam, improve work efficiency.
3, easy operation: automatic computer-controlled, automatic replenishment, make up pressure unstable defects.
4, security: a overpressure, water alarm, safety valve, three levels of security protection, safe and reliable.
5, widely applicable: for schools, hotels, enterprises and institutions canteen steamed rice; also suitable for heating, chemical processing, garment processing and washing ironing process industry use. Such as evaporation is not enough available single several parallel manner, increasing the amount of evaporation required, according to the specific amount of steam decided to start several steam generator. Maintenance simple, single operation.
Third, accessories and checklists
一、主机 LSG0.04-0.4-AII

二、副炉 作用:自来水的水位控制、锅炉补水预热

三、辅机清单

序号

名 称

单位

数量

型号规格

1

水位计

付

1

X29W-10T DN15

2

玻璃管

只

2

Φ13×220

3

安全阀

只

1

A28Y-10 P0.3-0.7 DN15

4

压力表

只

1

Y100 P0-1.0 DN15 1.6级

5

存水弯管

只

1

DN15

6

蒸汽式球阀

只

2

J11T-10 DN15

7

止回阀

只

2

H11T-10 DN15

8

排污阀

只

1

PQ41M-16 DN15

9

炉排

付

1

Φ290

10

水位电极

付

1

L=250

11

自动控制系统

套

1

进水、鼓风 功能

12

压力控制器

只

1

RYK-6

13

压力控制器表弯

只

1

14

进水电磁阀

只

1

220V 2W(选配)

15

水泵(涡轮泵)

台

1

750W

16

鼓风机

台

1

120W

17

温度表

只

1

0-120℃

18

主炉到副炉管道

套

1

弯头、镀锌管、活结、阀门等

19

烟囱

米

3

Φ114自理