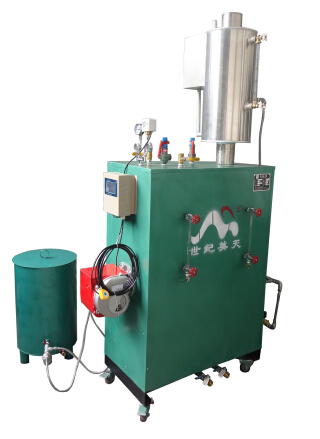 燃油(燃气)蒸汽发生器
燃油(燃气)蒸汽发生器
Fuel (gas) steam generator
First, the model: LHS0.1 / 0.2-0.4 (0.7) -YC (Q)
Product performance advantages:
1, low management costs: no need to handle the boiler use permits, operators do not need to do job card.
2, energy efficient: new structure, small size, high thermal efficiency, dust emission concentration is far below the national standard, using the new double drum structure and improve the water temperature of the boiler, the boiler pressure stable, energy conversion rate, the thermal efficiency of 92 %the above. 5-6 minutes to produce steam, improve work efficiency. (Single drum exhaust gas temperature 220 ℃ -250 ℃, double drum exhaust gas temperature 145 ℃ -155 ℃.) Installation of boiler preheater better, the exhaust gas temperature is 60 ℃ -70 ℃: Material (5052 aluminum-magnesium alloy plate); effect: the original water temperature changes at room temperature for 55-65 ℃ of water (or hot water as this requires the use of other, clean water) to reduce the fuel consumption of the boiler. The use of new insulation materials, light weight, low heat loss, good insulation properties. A combustion chamber provided in the lower part of the boiler, the use of side spray combustion technology and efficient heat transfer components, to maximize the complete combustion and thermal energy conversion. Water level alarm using stainless steel electrode rod, teflon as insulation material. Inserted from above, easy to hang dirty, reliable performance, long service life.
3, easy to operate: Automatic computer touch screen control, automatic voltage regulator, automatic replenishment, heating mode automatic switching, high degree of automation, a key button chain control.
4, security: a overpressure, water protection, double safety valve, three-tier security protection, safe and reliable.
5, environmental protection: clean, clean, is a new generation of energy saving products.
6, widely applicable: for schools, hotels, enterprises and institutions canteen steamed rice; also suitable for heating, chemical processing, garment processing industry, ironing and washing step to use. As a single evaporation is not enough available several parallel manner, increasing the amount of evaporation required, according to the specific amount of steam decided to initiate several steam generator. Maintenance simple, single operation.
7, protection devices:
1, the water level real-time monitoring function: equipped with electronic water level detection device, real-time monitoring of boiler water level.
2, water protection: When the boiler water promptly cut off the burner control circuit to prevent the occurrence of dry burner damage while the controller issued a water alarm indication.
3, overpressure interlock protection: When the boiler pressure exceeds user-set value, the burner is prohibited and alarm.
4 multiple security protection, pressure controller, water level alarm, safety valve, low water level alarm.
二、主要技术参数
序号

项 目

规格

单位

序号

项 目

规格

单位

1

额定蒸发量

100/200

kg/h

8

设计热效率

≥93%

2

额定蒸汽压力

0.4/0.7

MPa

9

设计燃料

柴油、天然气、等

3

饱和蒸汽温度

151/171

℃

10

耗油量

4.5-5/9-9.5

kg/h

4

给水温度

20

℃

11

耗气量

5.4-6/10-12

Nm3/h

5

受热面积

3.9/7.5

㎡

12

本体总量

300/400

kg

6

水容量

28/29

L

13

外形尺寸cm 150×60×160(+80)

170×65×170(+100)

7

常压预热器

5052材质
Configuration: boiler body (including insulation), LCD control box, pumps (solenoid valve), the burner (fuel tank containing household gas containing manifolds), double safety valve, inlet valve, check valve, sewage valve , pressure gauges, pressure controller, water level gauge, preheater and so on.
Parts List:
(一)主机 LHS0.05-0.4-YC

(二)辅机

序号

名 称

型号规格

数量

单位

备注

1

燃烧器

BTN5G(5L)

1

只

(含阀组)

2

控制箱

江苏

1

只

3

给水泵

750W

1

台

4

补水箱

15kg

1

台

5

日用油箱

0.07m3

1

只

选配

(三)本体配件

1

压力表

Y60 0-1

1

只

2

存水弯管

DN15

1

根

3

水位计

DN15

1

付

4

压力控制器

LTK-D(6)

1

只

5

缺水探针

L=300

1

只

6

安全阀

DN15

2

只

7

主汽阀

DN15

2

只

8

进水阀

DN15

1

只

9

止回阀

DN15

2

只

10

排污阀

DN20

2

只

11

排灰口

DN20

2

只

12

金属软管

高温 DN15 L=1000

1

只