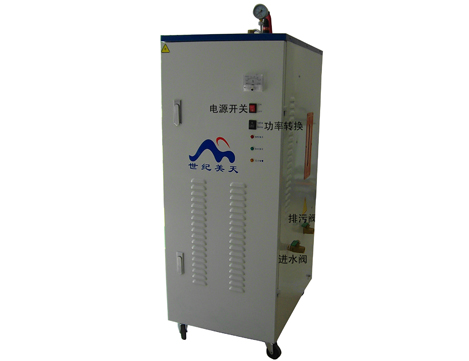 Item: electric steam generator LDR0.05-0.7
First, the product performance advantages:
1, management fees low: no handle boiler use permits, operators do not need to do work license.
2, energy efficient: A new electric heaters, energy conversion rate, the thermal efficiency of 98%. 5-6 minutes to produce steam pressure 0.4Mpa, improve work efficiency.
3. Easy to operate: computer-controlled, automatic voltage regulator, automatic replenishment, heating set to cycle, high degree of automation.
4, security: a overpressure, water alarm, safety valve, three levels of security protection, safe and reliable.
5, environmental protection: no noise, no pollution, clean, a new generation of energy saving products.
6, widely applicable: for schools, hotels, enterprises and institutions canteen steamed rice, the supply of water use; also suitable for heating, garment processing and washing ironing process industry use. Such as evaporation is not enough available single several parallel manner, increasing the amount of evaporation required, greatly reducing electricity consumption, according to the specific amount of steam decided to launch several steam generator. Maintenance simple, single operation.
7, the main technical parameters