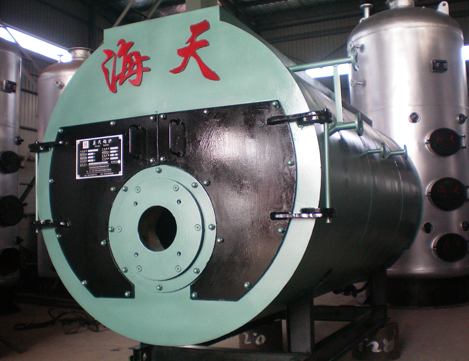 Steam (water) boiler
Products
1, boiler design, manufacturing, supervision, inspection and in strict accordance with "Steam Boiler Safety Supervision", JB / T 10094-2002 "industrial boilers General technical conditions", JB / T 1619-2002 "shell boiler body manufacturing technology conditions "the implementation of long-term security and stability to ensure the boiler work.
2, the body is shell type three return all wet back downstream fireworks tube structure, the flame in the combustion chamber large positive pressure combustion, fully extended, combustion heat load is low, less NOx emissions of harmful substances.
3, waveform furnace and threaded pipe structure that improves strength, but also meets the needs of the various parts of thermal expansion.
4, the main butt weld connections are used, and by X-ray and ultrasonic nondestructive testing, to ensure the welding quality to meet national requirements.
5, the boiler water volume and air space, adaptable load capacity. Pot device designed to ensure that steam with water rate less than 4%, to meet user requirements for high quality steam.
6, using the new thermal insulation materials, light weight, low heat loss, good insulation properties.
7, the water level alarm using stainless steel electrode rod, teflon as insulation material. Inserted from above, easy to hang dirty, reliable performance, long service life.
8, before the smoke box is hinged for easy opening, repair and maintenance quick and easy maintenance.
9, using the world famous burner, according to the size of the load size automatically control the fire, and flame detection and automatic purging, management is very convenient, operation expense, environmental effect. Furnace shape small size, elegant, mounting arrangement is very convenient. Overall excellent sealing, reducing leakage of smoke and heat loss.
B, protective devices
1, the water level real-time monitoring function: equipped with electronic water level detection device, real-time monitoring of boiler water level.
2, time setting function: Users can set the time from the boiler stop if necessary, free combination.
3, leakage protection: control systems to detect leakage electric heating elements will automatically cut off the power.
4, water protection: When the boiler water promptly cut off the burner control circuit to prevent the occurrence of dry damaged burner, while the controller issued a water alarm indication.
5, power protection function: boiler stop running immediately.
6, overpressure interlock protection: When the boiler pressure exceeds user-set value, the burner is prohibited and alarm.
Multiple security 7, pressure controller, water level alarm, safety valve, low water level alarm.
8, a complete gas train and protection system: to provide the filters, pressure regulators, solenoid valves and other gas valve and complete accessories, to ensure the safety of gas.
9, flue gas monitoring devices, can automatically monitor the exhaust gas temperature of the boiler, more easily grasp the combustion boiler.
10, scale alarm system, patented technology, automatic detection furnace scale, when the thickness exceeds a certain value alarm.
11, boiler 12 months warranty, lifetime maintenance, life-long sale and provide technical services.
WNS Series Automatic fuel gas steam boiler technology parameter table
WNS Steam Boiler piping system diagram
WNS Series Automatic fuel gas pressure hot water boiler technology parameter table
WNS-type pressure hot water boiler heating piping system diagram (constant pressure expansion tank)
CWNS Series Automatic fuel gas pressure hot water boiler technology parameter table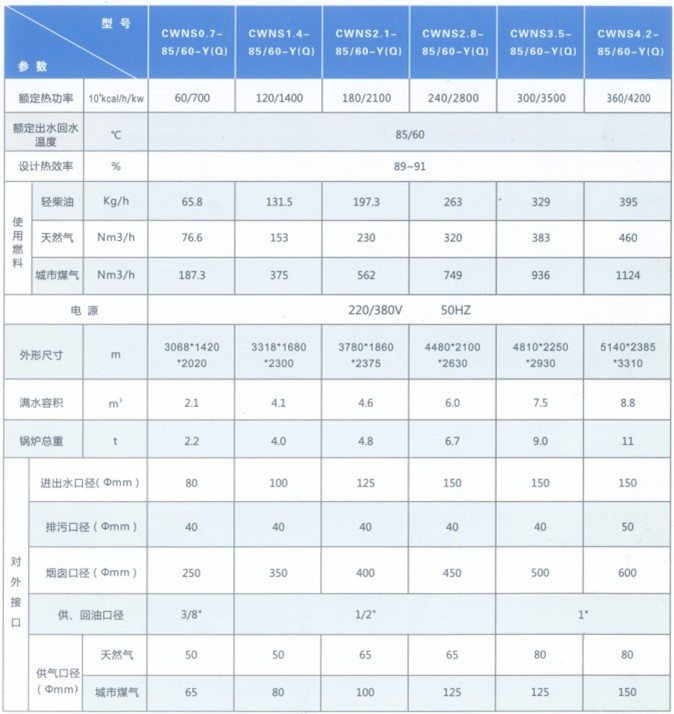 WNS-type hot water boiler pressure piping system diagram